The conservation charity crunch is coming
The harsh economic winds buffeting many of us are hitting nature-friendly businesses hard. It's time to start making choices.
We're sailing into stormy economic waters. And the first big waves are hitting our bow. As people and companies pull back on discretionary spending, companies and charities begin to struggle. And the signs are all there. The 2 Minute Foundation, hub of the #2minutebeachclean movement I've written about repeatedly here, is struggling.
Their new CEO, Nicky Green, sent this out a few weeks ago:
We have never asked for money, and we vowed that we never would, but times have changed and we really need you. I know that this is not an easy ask. The team and I understand the current cost of living rises and the impact that Covid is still having on many of us. But we also know what 2 Minute can do. And we want to carry on working together with you to save our beautiful planet.
Their funding troubles were at an existential crisis point, and more money was needed. As Nicky Green wrote:
We don't just want to be a number on a list of charities that couldn't make it through the pandemic, in the hangover from a turbulent 2021, with delayed programmes and lack of funding. We want to be here for you, for the long run.
And then this arrived yesterday:
It's with a very heavy heart that we have to cancel the weekly drop-in 2 Minute Beach School sessions from 1st July. You will know by now about our critical financial position and unfortunately, we have had to rethink our education model following the funding that we originally received from The National Lottery back in 2020.
While this doesn't affect us directly, as we live too far from Cornwall to participate in the live sessions, it did sadden me, as the online Beach Schools were part of our family lockdown experience.
Income for the 2 Minute Foundation is picking up — but hard choices are clearly having to be made. As last weekend's newsletter said:
Thank you for the donations already received since our first ask in May! We are bowled over by the positive response but we still really need your help. If you haven't yet donated and think you could, or if there is anything else you can do to help then please get in touch.
The Creature Candy runs out
On the same day that the Beach School news arrived, I got this from Creature Candy, a company whose websites' articles have occasionally featured on my even more occasional round-up of interesting nature reads:
As you know, Creature Candy has been struggling to keep its head afloat for many months now, mainly due to the impacts of covid. What with people buying less, our stockists closing and the rising costs of, well everything, we've been making a huge loss for many months. The worry and stress of this has made me very poorly and I simply cannot continue this way.
Unlike the 2 Minute Foundation, Creature Candy is a commercial business, but one which donates 10% of its sales to various charities. And those charities will be getting less money in future:
I therefore wanted to let you know that I am in the process of scaling the business down dramatically and from August will only be selling prints and cards, and our new t-shirts through the website Teemill.
That means that their range of mugs, jugs, notebooks and more will be gone, once the current stock is sold.
I'm glad they're continuing with the prints. I have one of them, nicely framed, in my study: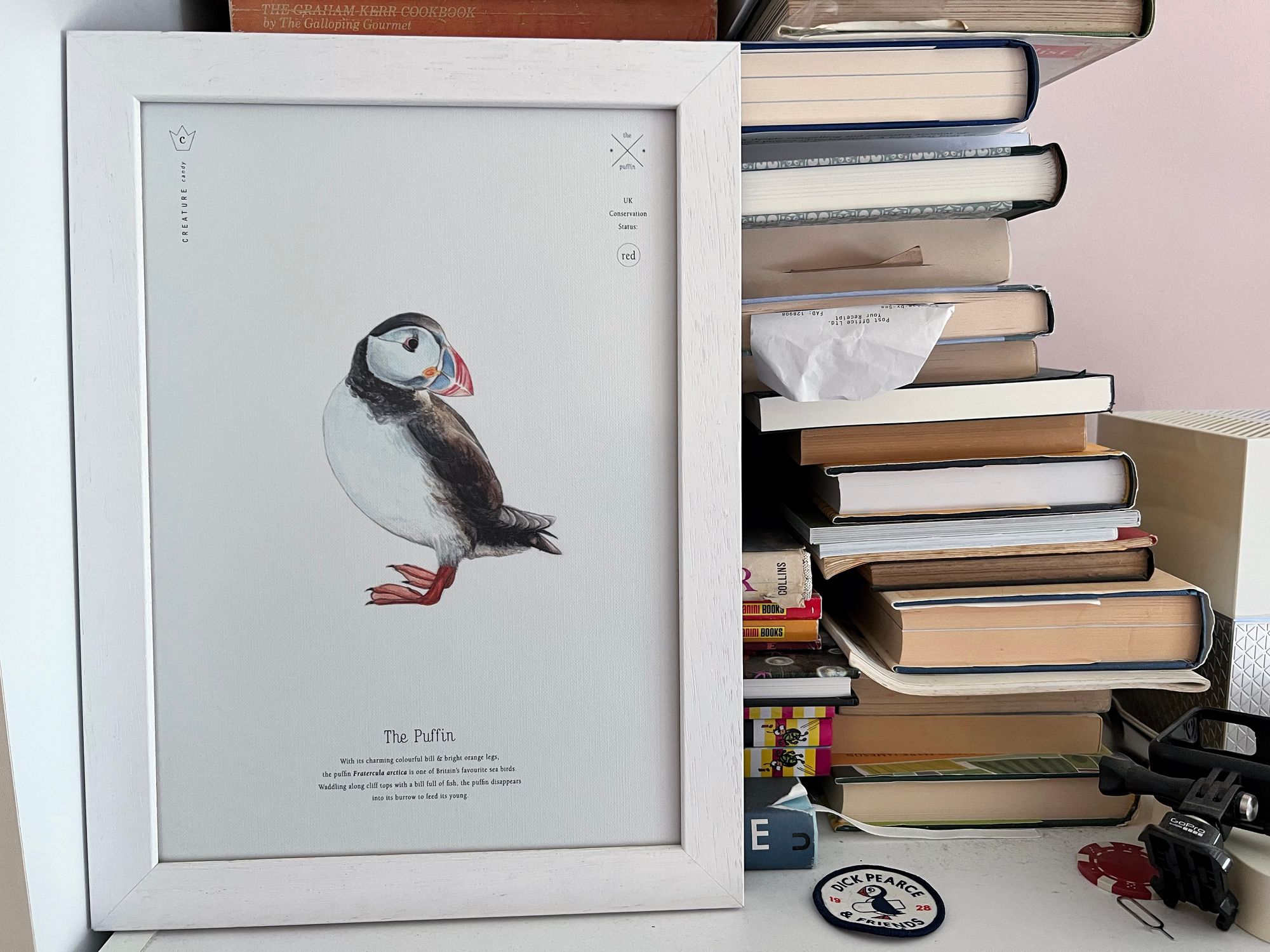 And right now, they've got some nature celebrity-signed prints for sale, if you're a fan of, say, Chris Packham, Megan McCubbin, Adam Henson or even Lorraine Kelly…
But it's clear that tomorrow's Creature Candy will be a smaller operation than today's.
Making smart choices with money
We're all facing difficult choices. Energy prices are shooting up, taking inflation with it. Most countries are suffering a cost-of-living crisis, but the UK is facing a particularly tough hit, for various reasons that I won't go into here.
That means we all face a choice with what to do with our money — and what we support. And so, I'm trying to be as intentional as possible. I'm now making a regular donation to the 2 Minute Foundation, and have just bought myself a couple of badly needed t-shirts from their store.
This is all reminding me of two years ago, when I was making difficult choices about where my diminishing income was going to go, to try to support local businesses that I wanted to still be there post-pandemic. Happily, my income is a little more robust currently (although I'm making some moves to protect that for the next little while), and so I have more flexibility.
But I'm hoping to get the whole family on board in making sure that we're buying as much as we can in a way that supports the life we want: goods from companies and charities that prioritise nature, the environment and sustainability. I may have used up a good chunk of my three score years and 10, but my daughters hopefully have many, many decades of living ahead of them.
Being mindful about whom we chose to support with our time and money is an investment in their future, as well as that of the organisations we choose to support.
I suspect many of us will be facing these sorts of choices in the coming months.
Walking With Daddy Newsletter
Join the newsletter to receive the latest updates in your inbox.
Comments